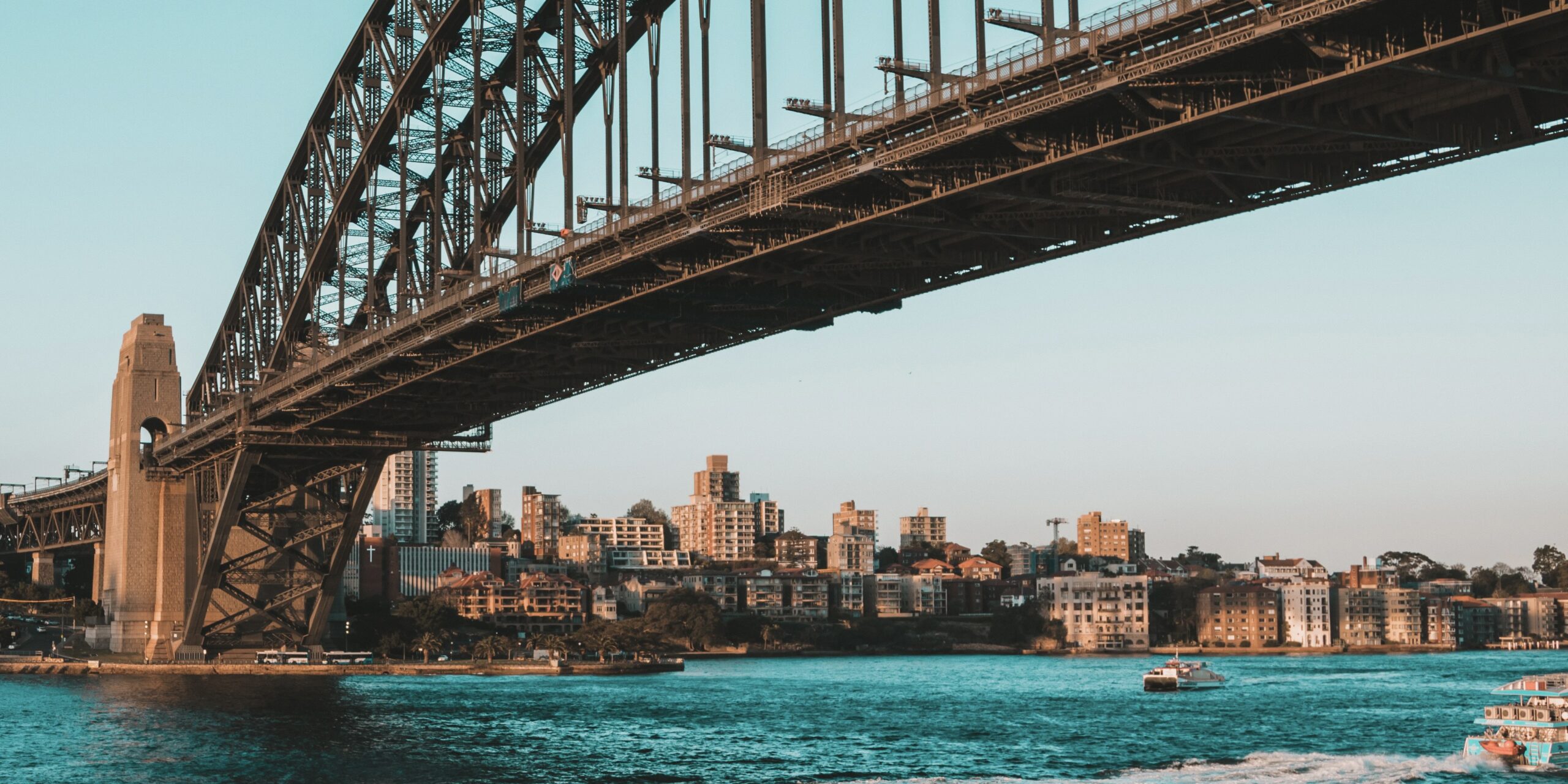 13 Sep

Which Sydney Waterfront Suburbs  Have Gone Up In Value The Most?

Waterfront properties across Sydney are known for their desirability, limited supply and high prices. Below, we look at the change in home values in key waterfront suburbs across Sydney's Eastern Suburbs and Lower North Shore in the last 12 months.
Eastern Suburbs
Sydney's Eastern Suburbs is home to some of the city's most desirable waterfront properties. From homes with gun barrel harbour bridge views to stunning ocean vistas, these homes provide the ultimate in luxury living. We investigate which of these sought-after waterfront suburbs performed the best.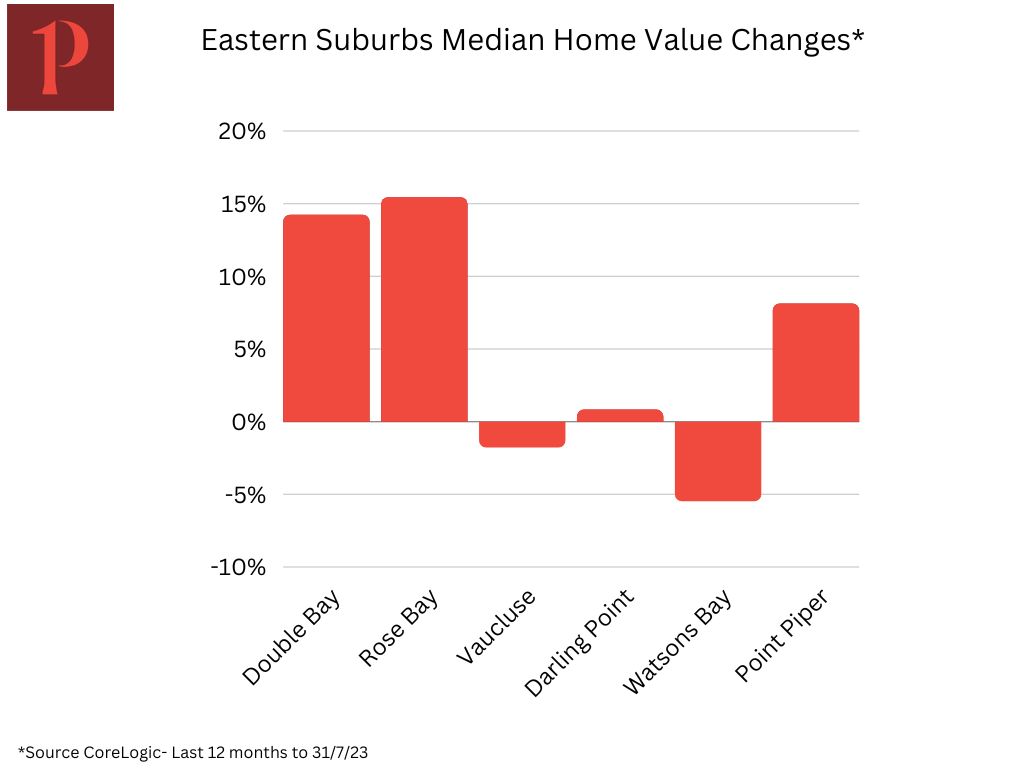 | Suburb | Median Home Value | Median Sale Price | Number Of Sales | New Listings |
| --- | --- | --- | --- | --- |
| Double Bay | $6.05m | $5.94m | 20 | +36.8% |
| Rose Bay | $6.56m | $5.6m | 56 | -1.6% |
| Vaucluse | $8.15m | $8.5m | 73 | -16.8% |
| Darling Point | $9.50m | $8.7 | 7 | -33.3% |
| Watsons Bay | $6.30m | $9.13 | 7 | -14.3% |
| Point Piper | $12.96m | n/a | 5 | -80% |

Source: CoreLogic – 12 mth period
Of these suburbs, Rose Bay had the biggest increase in median home value in the last 12 months with an increase of 15.4%. In a tight property market where most suburbs experienced a decline in sales, this suburb outshone its neighbouring suburbs with sales down by only –1.8% and new listings off -1.6%. Appreciated for its good schools, restaurants, strong community and proximity to the city, Rose Bay is known for its exclusivity and easy lifestyle living.
Double Bay also performed well, with the second biggest increase in median house values. Of the 20 sales disclosed over the last 12 months, six homes sold for over $6m. This includes a sale at 79 Ocean Street, Double Bay for $9.3m in February 2023. Double Bay has transformed in recent years and is loved for its harbour-front setting and proximity to shopping and restaurants. The average hold time for a property in this suburb is 13.2 years.
Vaucluse was the suburb with the most amount of sales over the period. This is most likely because there are more free-standing homes here than in neighbouring suburbs, meaning more house transactions. For example, 48% of Vaucluse dwellings are free-standing homes versus only 20.6% in Rose Bay and 13.4% in Double Bay. Vaucluse is home to some of Sydney's premier homes. 38A Wentworth Rd, Vaucluse sold for $62,750,000 making 2022's list of top ten sales as did 21 Coolong Rd, which sold for $60,000,000.
Darling Point came in second for its median home value. However house prices were flat over the period as there were only 7 home sales. This is because only 6.5% of dwellings in this suburb are free-standing homes with the rest being apartments. 20 Eastbourne Road was one of Darling Point's top sales in 2023, selling in February for $24.3m.
Watsons Bay had a limited number of home sales, which were down by -54.5% over the period. This is not surprising considering there are less than 123 houses in Watsons Bay. 22 Victoria Street sold for $14m in March and was the highest priced sale in 2023. This pulled the median sale price upward and more than $2.8m above the median home value.
Point Piper had the highest median home value for the last 12 months although there were few sales. Like Watsons Bay the majority of the suburb is populated with apartments, which represent 71% of dwellings. The sale of 5 Wentworth Place, which sold in November for a cool $130m brought up the median home value.
North Shore
Sydney's North Shore waterfront homes offer a blend of natural beauty and urban convenience. This makes them lovely places to live as well as prime real estate investments. We look at how home values performed in some of the key waterfront suburbs over the last 12 months.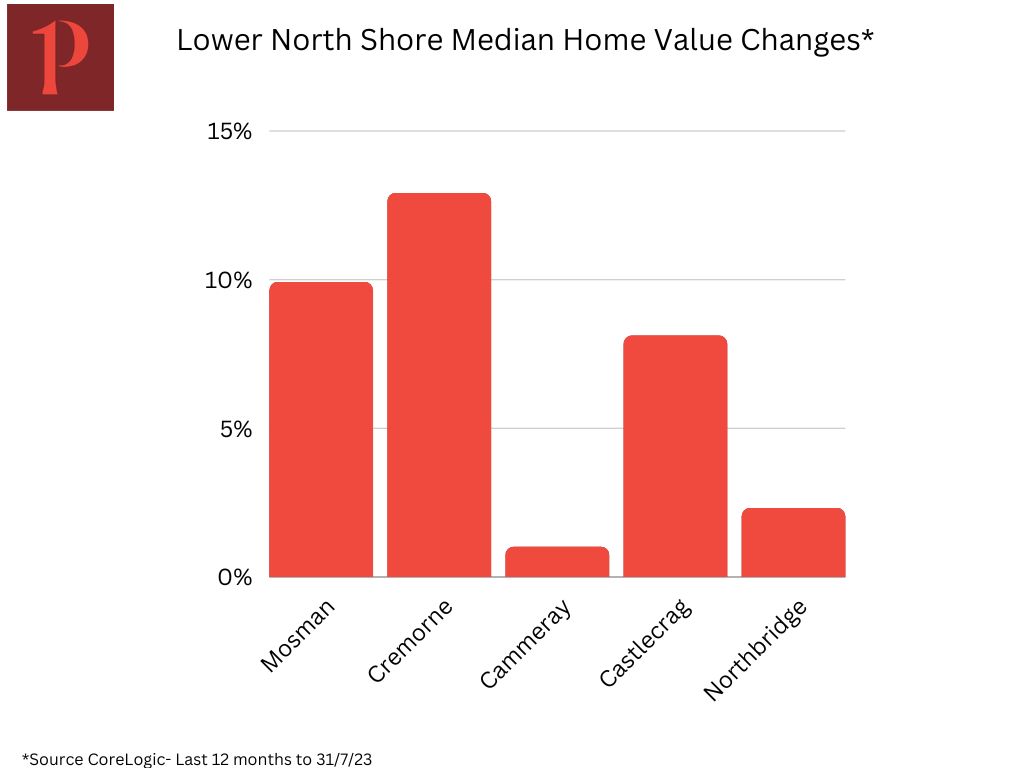 | Suburb | Median Home Value | Median Sale Price | Number Of Sales | New Listings |
| --- | --- | --- | --- | --- |
| Mosman | $5.21m | $5.03m | 274 | -5.4% |
| Cremorne | $4.10m | $3.9m | 27 | -16% |
| Cammeray | $3.15m | $3.1m | 42 | -33.3% |
| Castlecrag | $3.96m | $3.9m | 53 | 20% |
| Northbridge | $4.27m | $4.55m | 60 | -13.9% |
| | | | | |
Source: CoreLogic – 12 mth period
Cremorne, a beautiful waterfront suburb had the most significant median home value increase in the last 12 months. The suburb is very tightly held with an average tenure of 13.2 years and only 39 freestanding home sales in the last 12 months. Of these homes 17 sold above $4m. Waterfront Cremorne homes command a premium, for example 16 Wonga Road sold in April for $15m.
Mosman is a very desirable lower north shore suburb and the median home price increased 9.9% over the past year. Stock levels were low with new listings down -5.4% over the last 12 months. This exclusive waterfront suburb had 38 home sales* over $10m during this period (*publicly disclosed sales only).
When you can find these tightly held waterfront homes, they secure premium prices. For example, 30 Iluka Road sold for $30.5m in October 2022  and 12 Musgrave Street Mosman sold in July for ~$21m.
Cammeray is another sought-after waterfront suburb on the Lower North Shore. Its proximity to the city and village-like feel make it a popular choice for those wanting lifestyle and convenience. The suburb has a mix of Federation homes, small cottages and newer waterfront homes. Only 24% of the dwellings in Cammeray are freestanding homes, making it a very competitive market for buyers. Currently of the seven houses on the market, two of them are waterfront homes, which is highly unusual.
Nestled along the picturesque Middle Harbour in Sydney, Castlecrag is a charming suburb known for its unique sandstone homes and lush green landscapes. Castlecrag had an increase of 20% in new listings over the 12-month period. The median home value increased 8.1% and sales recorded were up by 51.4%. This suburb is comprised mainly of houses which make up 97% of dwellings. There were 7 sales* (publicly disclosed only) that were above the $8m mark – one being 308 Edinburgh Road, which sold in December 2022 for $13m.
Northbridge has a good selection of waterfront homes with boating facilities, however they very infrequently come up for sale. House listings are down –13.9% over the previous 12 months. During this time, no north facing waterfront homes sold during that period. However, three waterfront homes sold on Dorset Rd, which is south facing.
Further Reading : Scarcity Ensures Security With Sydney Waterfront Properties